This past week we celebrated our two year anniversary. Yea us! It was a lovely year in addition to our first and perhaps flew by at twice the speed!
We celebrated by spending the night at a wellness resort on the north side of Lake Travis. Fear not, we haven't become bizarre hippies who work on our marriage by spending hours sweating it out in yoga. (although we could have if we wanted to at this place) A few months ago, Arthur retweeted a contest giveaway by a local radio station and won a nights stay at Travaasa Austin, a wellness all organic retreat, for persons who proverbially enjoy the smell of their own farts.
Listen, we're not opposed to clean water, lots of trees, or recycling. But when you go to a luxury hotel, and your bathrobe looks like this:
You gotta wonder-- is anyone thinking through anything these days??
I have to say though, we slept like royalty on our all organic bed with all organic bed linens (which were wrinkled on the bed because ironing takes up too much energy...seriously) with AMAZING blackout shades, and the AC turned down low!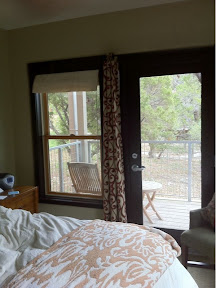 The hotel has a variety of rooms and ours was a trail view room--
It felt like we were a million miles from civilization. Tranquil indeed.
On Monday morning after our locally sourced, all organic breakfast (smell your own farts, remember?) we checked out, and treated ourselves to the early bird showing of Super 8. We loved the movie, and loved that we were practically the only people in the theater!
After that we headed down to our favorite nearby small town, Wimberley (we will live there someday....) to swim at the blue hole-- a local spring-fed swimming hole. It was refreshingly cold, and really the perfect way to finish our day.
And to top it all off, my dear sweet husband got me, his silly wife a beautiful anniversary gift-- one that I had spotted on pinterest and whined about frivolously wanting for no good reason other than it's beautiful. Behold:
Measuring cups. So pretty, I don't know what to do with myself.
He really does love me.